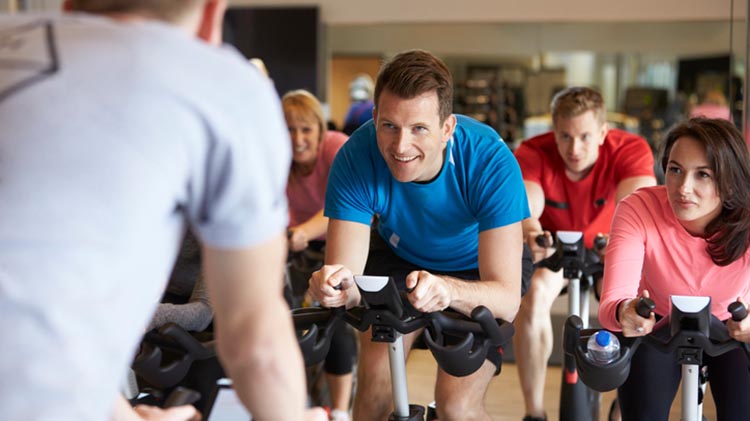 Fort Belvoir Sports and Fitness offers a variety of group exercise classes to satisfy your health and fitness goals.

Eligibility

Military, DoD Civilians, Retirees, Family Members (16+)

Unlimited Monthly Pass- $25

Unlimited Weekly Pass- $7

Class Schedule

Monday
Body Pump
10:30 a.m.
Tuesday
Yoga
12 p.m.
Wednesday
Body Pump
10:30 a.m.
Thursday
Yoga

12 p.m.

Friday
Zumba
10:30 a.m.

Classes are held at Wells Field House, 1810 Goethals Road.

* Indoor Cycling Classes are held at Graves Fitness Center, 2116 Abbott Road.

** HITT Classes are held at Kawamura Human Performance Center, 9250 Gunston Road, BLDG 1481.

Registration and payments are accepted at Graves Fitness Center and the Body Shop. Participants must be at least 16 years of age. Refunds offered for PCS, TDY moves, and service injury/illness.

Class Descriptions

Indoor Cycling – An indoor cycling program designed for all fitness levels, delivering an incredible calorie burn. Whether you are an avid outdoor cyclist or new to cycling, this class will provide a challenging workout to include strength and endurance.

Zumba – Get your groove on with this exciting combo of Latin dance. You will burn calories, get re-energized and have an hour of all out fun. Perfect for all fitness levels!

Yoga – Develop strength, muscle tone and flexibility with the union occurring between mind, body and spirit. De-stress your day! All fitness levels welcome.

HIIT – A group physical training program designed to build strength and fitness through a variety of intense group intervals.

Extreme Core – A class designed to help build a stable, powerful abdomen and lower back to improve fitness, straighten posture and provide a foundation for activities of daily life.

Pilates – Learn how to stretch and strengthen your muscles while improving flexibility and balance. All fitness levels are welcome!

Body Pump – A total body class that uses a little weights and a lot of repetitions to get you lean, toned, and fit.