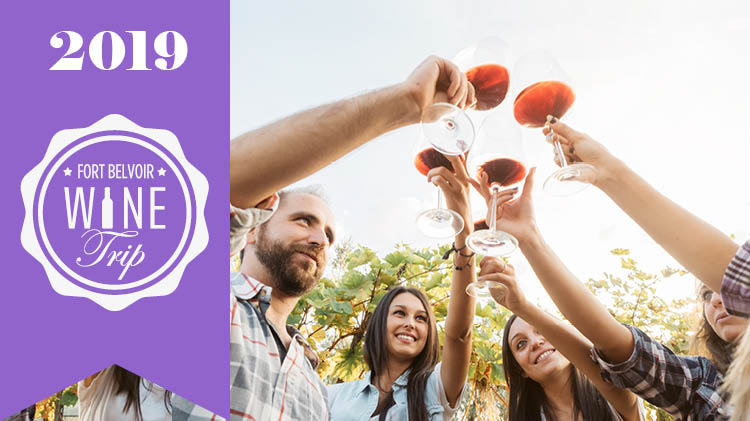 Note: This event has already passed.
Date: May 11 2019, 9 a.m. - 5 p.m.
Community Center - 10300 Taylor Rd, Bldg. 1200 Fort Belvoir, VA 22060 Fort Belvoir 22060 Google Map
Join the Community Center for a Wine Tasting Trip to discover three of Virginia's finest vineyards. Taste amazing wine, enjoy the beautiful scenery without worrying about driving.
Event Dates
May 11
Jun 8
Jul 13
Aug 10
Sep 14 -
Oct 12 - 3 SPOTS LEFT!
Itinerary
Depart: 9 a.m., Fort Belvoir Community Center
Arrive: 10:10 a.m., First Winery – Pearmud Cellars*
Depart: 12:10 p.m.
Arrive: 12:40 p.m., Second Winery – Barrel Oak Winery
Departs: 2:10 p.m.
Arrive: 2:45 p.m., Third Winery – Winery at Bull Run
Departs: 4:10 p.m.
Arrive: 5 p.m., Fort Belvoir Community Center
*Free tasting at Pearmud Cellars only. Other wineries have a small tasting fee.
Additional Information:
Must be at least 21 years of age.

Patrons are welcome to bring personal food and non-alcoholic beverages during the ride and throughout the day. Cheese trays are often available for purchase at the wineries and on occasion, there are food trucks on site.

Each passenger must provide a phone contact number in case of emergency.
MWR will not be responsible for delays due to traffic conditions, accidents or any other causes beyond its control.
Trips must have a minimum of 14 passengers. If the minimum is not reached, customers will be notified of cancellation the Thursday prior to the trip and have the choice of a refund or applying the charge to the next wine tasting trip.
Cost
$50 per person. Fee includes transportation and wine tasting at Pearmud Cellars. Patrons can purchase tastings at Barrel Oak and Bull Run wineries if desired.
Registration Info
Reservations must be made at the Community Center.
Trips book fast so get your space today!
Trips must have a minimum of 14 passengers. Please register two weeks prior to your desired trip date.
If a trip is cancelled by the Community Center, for reasons such as low participation or an unforeseen problem, patrons who signed up will receive a full refund or they can apply their fee to a later trip date. *Note* if the trip goes on as scheduled, patrons who do not go on the trip will not be awarded a refund.
Late sign-ups will still be accepted up until the trip date if the minimum seat requirement has been reached.
Eligible DoD ID-card holders may sponsor non ID-card holders so grab your friends and family and reserve your seats soon!
Contact