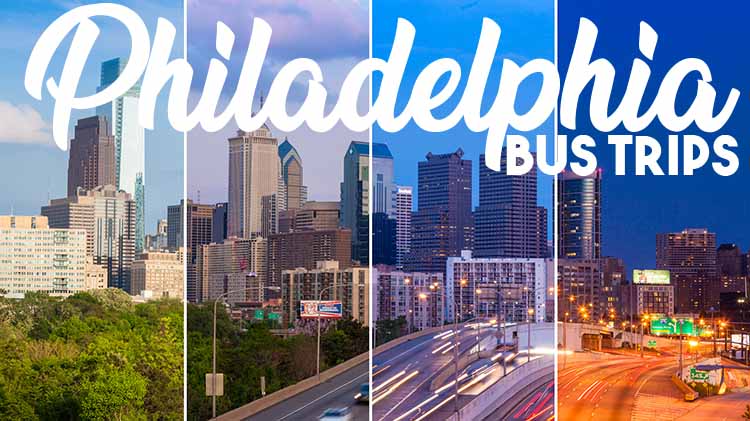 Date: Apr 13 2019, 7:30 a.m.
Community Center - 10300 Taylor Rd, Bldg. 1200 Fort Belvoir, VA 22060 Fort Belvoir 22060 Google Map
Experience Philadelphia and not have to worry about driving or parking in the city. Patrons are guaranteed six hours on the ground upon arrival. Transportation is provided in a luxury motorcoach. There is no guided tour associated with this trip.
Things to do in Philadelphia:
Reading Terminal Market: one of America's largest and oldest public markets featuring a selection of locally sourced produce, meats, cheese, and more located directly across from the convention center.
Penn's Landing: Named in honor of William Penn's historic landing in Philadelphia in 1682. The area spans Front Street to the Delaware River from Spring Garden Street to Washington Avenue.
Tour Philly's growing distilleries: Follow the Craft Distilleries & Spirits Trail of Greater Philadelphia. Craft Distilleries in the Philadelphia area are booming, helping to restore Pennsylvania to its once-prominent place in the national distilling conversation.
Germantown: One of the oldest settlements in Philadelphia with unique eateries and stores next door to 300-year-old buildings.
South Street: Long known at the edgiest street in Philadelphia, South Street is a melting pot of groups and cultures.
One Liberty Observation Deck: View the stunning Philadelphia skyline.
Partake in the best Cheesesteaks around: One cannot visit Philly without eating a Cheesesteak!
Much more!
Trip Dates:
Saturday, Apr 13.
Saturday, Jun 15.
Saturday, Aug 17.
Registration Info
Patrons must register at the Community Center at least 14 days before desired trip date. Each trip is subject to cancellation if a minimum number of seats do not fill.
Eligible patrons include Active Duty (including Guard and Reserve), Retirees, DoD Civilians, eligible contractors, and Dependents.
Each eligible ID Card holder can sponsor one non-ID card holder so grab your friends and family and reserve your seats soon!
Contact