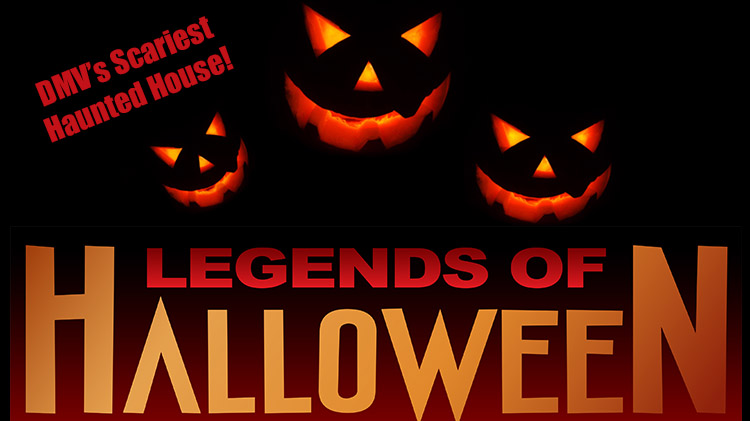 Legends of Halloween: The DMV's Scariest Haunted House!
Note: This event has already passed.
Date: Oct 13 2017
Old DFAC Building - 6021 Abbott Rd. Bldg. 1822 Fort Belvoir, Virginia 22060 United States Google Map
Fort Belvoir MWR and Gravensteen Haunted Productions presents, Legends of Halloween.
Gravensteen Haunted Productions brings you one of the scariest haunted houses the DC area has ever seen!
Dates and Times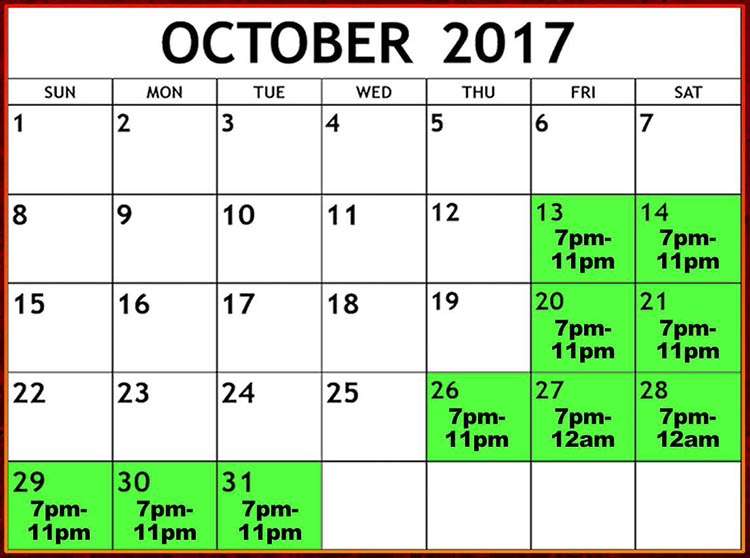 Oct 13 - 14 - 7 - 11 p.m.
Oct 20 - 21 - 7 - 11 p.m.
Oct 26 - 7 - 11 p.m.
Oct 27 - 28 - 7 p.m. - 12 a.m.
Oct 29 - 31 - 7 - 11 p.m.
Ticket Prices
Advance Admission (online or in person) - $10 per person.
Admission Price at the door (cash only) - $15 per person.
Fast Pass Ticket* - $35 per person.
*Fast Pass tickets allow the purchaser to skip the wait and get scared even faster! There is a limited quantity of Fast Pass tickets available for each day, so get yours soon.
All ticket sales are non-refundable.
Get your Tickets

Get your tickets online anytime. Online tickets are sold for specific dates. *A small service fee is added for online purchases.
Purchase tickets in person at the Community Center, located at 10300 Taylor Rd, Bldg. 1200. They are open Tuesday - Friday from 8 a.m. - 6 p.m. Tickets purchased in person are good for any date in 2017.
Purchase tickets at the door. Ticket sales at the door are cash only!
Location
The Haunted House is located at the old DFAC building, 6021 Abbott Rd. Bldg. 1822.
Tulley Gate will be the only gate open during the haunted house hours of operation. Click on the Google Map icon at the top of the page to get directions.
Eligibility
The Haunted House welcomes the general public. That means, in addition to all regular Military Card Holders, visitors with a State Drivers' License and their Dependents can enter through Tulley Gate Visitors Center, 9500 Pohick Rd, Fort Belvoir, VA 22060. Non-Military/DoD Visitors are encouraged to go to the Visitors Center prior to their visit and receive their pass. This will greatly reduce gate wait times.
One eligible DoD ID Card holder is required per vehicle entering Fort Belvoir through any gate other than Tulley Gate for this event. There is no limit to the amount of guests each eligible ID card holder can bring, so get all your friends and family together for a live experience in terror!
Children 12 and younger need to be accompanied by an adult at all times.
Age Restrictions
Children 12 and under must be accompanied by an adult. Due to the "fright factor" of our haunted house, the suggested age of entry is 10 years old, but it is up to parents and their children to make that call.
Haunted Attraction Performers Wanted!
Want to scare the heck out of people? Volunteering for the haunted house will give you that opportunity! Scary makeup and costumes not your thing? You can help as ushers, security or in many other ways. Don't miss your chance to join in this unique and exciting event. No experience required.

If you are interested and are at least 18 years of age, email Garland at [email protected]mil
FAQ
Q: If I purchase a ticket and cannot use it on a particular day, can it be used on another date or must I purchase a new ticket?
A: Tickets purchased online must be used for the specific date it was purchased for. Tickets purchased at the Community Center can be used any day.
Q: If I keep my ticket after going through the haunted house can I go through it again on the same night?
A: Yes, there is only a $5 fee for re-entry on the same night. Tickets cannot be used on any other night for the re-entry discount.
Q: If paper tickets are misplaced, can they be re-issued?
A: No, all costumers are responsible for their own tickets. Tickets are non-refundable.
Q: Will safety bands, or other such item, be used to reduce the fright factor for families entering with children under the age of 10?
A: No, the experience will remain the same regardless of age. It is the discretion and at the risk of the parent to allow their child to enter. Children 12 and under must be accompanied by an adult.