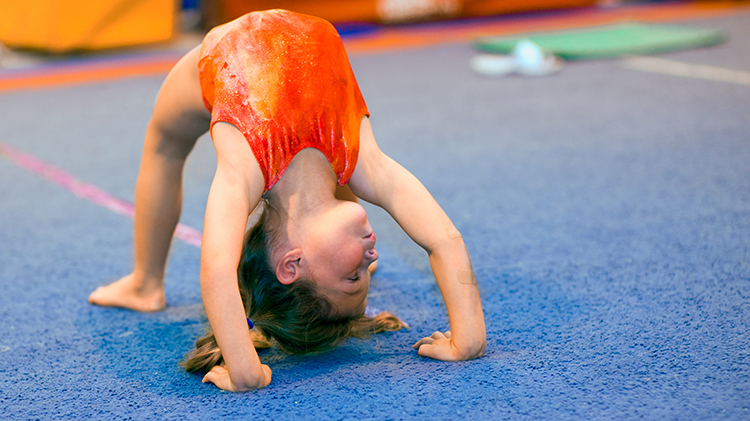 SKIES Gymnastics and Tumbling
SKIES GYMNASTICS
Location: Markham School Age Center, 9500 Barlow Road, Bldg. 950.
18m-3yrs (Parent Participation)
Every week a new lesson plan mixes motion, music and fun making each class a treat. The children are being prepared to attend class without you by introducing them to concepts like taking turns and listening. The instructor will help you to encourage and direct your child's abundant energy!
AGE 3 & 4
Weekly lesson plans involving music, gymnastics skills, obstacle courses, and cooperative games allow students to build self-confidence and increase social skills while improving their listening skills and ability to follow directions.
AGE 5 & 6
Kindergartners are stronger and more independent than their younger counterparts, so we provide them with extra challenges while still incorporating FUN.
SKIES TUMBLING & TRAMPOLINE
Location: Specker Field House
Ages 7 & up Beginner
Our tumbling program follows the National USA Gymnastics levels program. Class includes instruction on tumbling skills, mini trampoline and tumbletrack. Each level has a set of skills that must be mastered before advancing to the next level. We help students track their progress and learn to set goals.
Class Schedule
Class Name
Price
Duration
Tuesday
Wednesday
Age 18 mo. - 3 yrs
$52/month
40 min
9:30 a.m.
-
Age 3 & 4
$52/month
40 min

10:15 a.m.

2 p.m.

5:45 p.m.
Age 5 & 6
$52/month
40 min
-
-

Tumbling & Trampoline

Age 5 - 7 Beginner

$56/month
50 min
5:30 p.m.
-

Tumling & Trampoline

Age 7 and Up Beginner

$56/month
50 min
6:30 p.m.
-
Additional information:
Please show up 5 minutes early.
Have your child use the restroom before class begins.
Boys should wear shorts with elastic waist and t-shirt tucked in.
Girls should have hair tied back and all jewelry off, gymnastics leotard, elastic shorts or leg tights (without feet) are optional.
Non-skid socks or bare feet. No snaps, buckles or zippers.