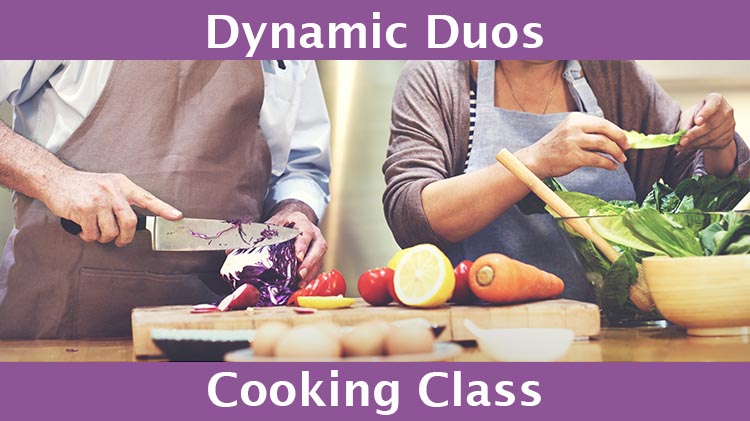 Dynamic Duos Cooking Class
Note: This event has already passed.
Date: Sep 14 2018, 6:30 p.m. - 8:30 p.m.
Community Center - 10300 Taylor Rd, Bldg. 1200 Fort Belvoir, VA 22060 Fort Belvoir 22060 Google Map
Bring a friend, bring a companion, bring a loved one! Together, enjoy a fun evening with the added bonus of great food.
Class dates and themes:
Wednesday, Feb 14 | 6:30 - 8:30 p.m. | Roses are red, violets are blue, tonight enjoy a splendid dinner for two!
Menu:
Appetizer: Grilled Lobster and Avocado Ceviche.
Salad: Shaved Asparagus with Honeycrisp Apple Strings and Gorgonzola over a bed of Arugula topped with Shallot Vinaigrette Toasted Pecans.
Main Course: Italian Stuffed Flank Steak with a Creamy Parmesan and Pesto Gnocchi and Asparagus flavored with a Butter White Wine Sauce.
Friday, May 4 | 6:30 - 8:30 p.m. | Cinco de Mayo (CANCELLED)
Menu:
Fresh Corn Relish
Fish Tacos
Crab with Jalapeno and Cheddar Empanadas
Saturday, May 12 | 12 - 2 p.m. | Mother and Child. "My kid is in the mix!"
Menu:
Red Velvet Waffles with Cream Cheese Glaze
Blazing Berry Fruit Salad
White Chocolate Lemon Truffles
Saturday, Jun 16 | 12 - 2 p.m. | Father and Child. "Show me what you've got!"
Menu:
American Flag (using Blueberry, Strawberry and Marshmallow)
Making Sushi Rolls
Grilled Shrimp Skewers
Friday, Jul 13 | 6:30 - 8:30 p.m. | Backyard BBQ/Cajun Creole fest. "Southern meets the Dirty South." (CANCELLED)
Menu
Chili-Rubbed Ribeye with a Bourbon Maple Butter
Cajun Creole Low Country Boil
Friday, Sep 14 | 6:30 - 8:30 p.m. | Fall Season Favorites.
Menu:
White Bean Turkey Chili
Chicken Skillet with Sweet Potatoes, Apples, Brussel Sprouts and Bacon
Friday, Nov 16 | 6:30 - 8:30 p.m. | Southern Thanksgiving. "Leftovers are the after party!"
Menu:
Leftover Stuffing Waffles
Turkey and Cranberry Fritters
Cheesy Mashed Potato Pancakes
Check out the pictures on Flickr!
Cost
$95 per pair, per class. All food and supplies are included in price.
Registration Info
Reservations must be made in person at the Community Center prior to the desired class date.
Contact